»
ABOUT
Creative CityMaking: Minneapolis' Model for Diversity in Placemaking
BRIAN MARTUCCI
The Line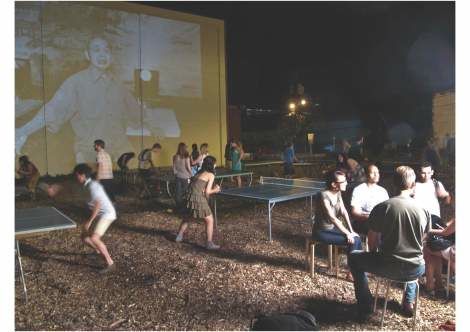 POPUP PING PONG INSTIGATED BY WING YOUNG HUIE AND ASHLEY HANSEN, COURTESY CREATIVE CITYMAKING
Intermedia Arts,
a Minneapolis-based multicultural, interdisciplinary arts organization, has been instigating exciting community art initiatives since 1973. One such initiative has been the
Creative CityMaking
"pre-pilot" project, through which Intermedia has produced innovative public art and performance pieces in North Minneapolis, Dinkytown, and elsewhere.
For the
"Penn Avenue North Small Area Plan,"
for instance, artists Wing Young Huie and Ashley Hanson, and city planner Jim Voll, deployed various "engagement strategies"— from interactive outdoor performances to restaurant table-toppers with questions about local transit—that engaged residents in options for improving transit service along Penn Avenue in anticipation of the Southwest and Bottineau LRT extensions.
To collect data for another piece, three fellows from Juxtaposition Arts pedaled a "mobile engagement theater" around Dinkytown, soliciting "survey" input on development from passers-by. They converted their findings into a handmade zine and an exhibition, "This Is Our City!", at Intermedia's Lyndale Avenue headquarters.
Creative CityMaking, Intermedia Arts' bold placemaking, problem-solving collaboration with the City of Minneapolis, recently received a big boost: a $1 million, three-year grant from the
Kresge Foundation
, which promises to deepen the initiative's reach in previously unimaginable ways.
"Based on the success we have had so far, we anticipate that the city will want to incorporate more artists into future projects as collaborators and consultants," says Wendy Morris, Intermedia's new Director of Creative Leadership, who brings 20-plus years of leadership consulting experience across the U.S. to her position. "In three years," she adds, "I expect we will have many powerful examples…of how city departments have been able to accomplish their goals more inclusively by using arts-based approaches."
Creative CityMaking defined
Creative CityMaking, according to Intermedia's website, is "a partnership between Intermedia Arts and the City of Minneapolis that fosters collaborations between local artists and City planners…[that address] the long-term transportation, land use, economic, environmental, and social issues" facing the city. The initiative is designed to help artists shape the discourse on key urban issues and, hopefully, boost public engagement in the process.
Put another way, it's a placemaking initiative that seeks "cross-sector solutions to the city's issues," says Gulgun Kayim, the City of Minneapolis' Director of Arts, Culture, and Creative Economy.
"It is our goal, and Kresge's, [to ensure that this grant] specifically works to engage low-income, underrepresented communities and communities of color," says Theresa Sweetland, Intermedia's Executive Director. She cites as inspiration a study of "equitable placemaking" sponsored by
Neighborhood Funders group, which includes a section by Neeraj Mehta
, a fellow at the University of Minnesota's Center for Urban and Regional Affairs.
In his paper, Mehta wrote: "While some people within our communities are able to capitalize on existing community development opportunities, there are many more who do not benefit from mainstream community development efforts. To reach the most isolated, vulnerable and economically disadvantaged people, we must put highly targeted strategies in place. Such targeted approaches reach deeper into communities, taking into account unique factors—including culture, language, family, and personal background—that can help more people take advantage of existing opportunities and resources."
Normalizing collaborations between planners and artists
Intermedia is working closely with the City of Minneapolis to guide and implement the Creative CityMaking. Owing to the project's ambition and novelty, Kayim—who is Morris' chief public-sector collaborator on the project—has few peers, either in the U.S. or elsewhere. She allows that artists can't solve every engineering challenge or traffic issue. But "when you look at a problem from multiple perspectives," she says, "it often becomes easier to solve."
According to Morris, Creative CityMaking's roots go back nearly a decade. In 2005, Morris helped write the Minneapolis Plan for Arts and Culture, a far-reaching framework that first floated the idea of connecting city departments with creative problem-solvers who would occupy artist-in-residence positions with the city. Erik Takeshita, another key Creative Leadership fellow at Intermedia, helped influence the plan's drafting from his position as a senior policy aide to then-mayor R.T. Rybak.
"The plan reflected Erik's understanding of the potential for the arts to be a strategic asset within municipal government," says Morris. During the initiative's pre-pilot project, which lasted through 2013, Morris leveraged Takeshita's ideas and experience in an intensive series of workshops that aimed to normalize the idea of collaboration between city planners and artists. The meetings weren't completely free of challenges, which ranged from incompatible lexicons to differing "assumptions about how good work gets done" in different settings, she says.
More broadly, Creative CityMaking—and placemaking projects like it—faces structural, institutional, and resource-related challenges. "This is not something that can be done in a vacuum," says Kayim, noting that "engaging the public in a meaningful way" requires inputs from multiple stakeholders. To ensure that the three-year grant produces as many quality projects as possible, both Kayim's department and Intermedia are actively seeking artists and other participants.
For Kayim, who wryly noted that her department "is just me" in a
2012 MinnPost article
, this is new territory. An artist herself, she knows how tough it is for new artists-in-residence to adjust to their roles. "It takes a year just to find everything at the office," she says. Her job is to smooth and expedite artists' adjustment periods and facilitate truly original work.
Another issue is institutional: Despite close relationships with city planners and department heads, Creative CityMaking's collaborators won't be city employees themselves. This autonomy can create communication headaches, but the unique perspective that independent artists bring to the planning and decision-making processes makes the tradeoff worthwhile.
Public art + community revitalization
Intermedia has been on Kresge's radar for some time. The Creative CityMaking grant is specifically formulated to leverage the organization's ability to integrate public art projects with community revitalization efforts.
"[Kresge] began its funding relationship with Intermedia Arts in 1995 with a grant to support the renovation of its current facility," says Regina Smith, a Kresge program officer who works with Intermedia. "As Kresge's Arts and Culture strategy began to evolve in 2009, and a clearer alignment of our mutual priorities emerged, Intermedia Arts became an important case study in our portfolio."
Creative CityMaking, says Smith, was a perfect expression of Kresge's "interest in integrating the capacity of arts and culture within and alongside local systems." Based on the success of the pilot program, the foundation decided to make a grant large enough to "[probe Creative CityMaking] for staying power, stickiness, and scale inside other City of Minneapolis departments," says Smith.
Kayim cites Huie and Hanson's Penn Avenue project as a great example of an initiative that's built around the needs of a very specific community. One critical aspect of placemaking, Kayim says, "is tailoring the needs of a project to the needs of the community it serves." In a multicultural, rapidly diversifying city, she argues, it's no longer acceptable to rely on "mass produced space" or cookie-cutter public art projects. True community engagement demands art and performance pieces that speak directly to members of underserved communities and give them a stake in the planning process.
To find another approach to placemaking, one merely has to look across the Mississippi. In 2005, as Morris and others finalized Minneapolis' Plan for Arts and Culture, Public Art Saint Paul flipped the switch on Saint Paul's City Artist in Residence (CAIR) program. A decade later, CAIR has added two new artists to complement the work of "senior" artist-in-residence Marcus Young and continues to pursue ambitious projects like "The Art of Recycling" and "Everyday Poems for City Sidewalks."
The two initiatives are complementary. Like Creative CityMaking, CAIR draws attention to important issues—like recycling, transit improvements, and environmental issues—with public art or performances. Although it's too early to tell for sure, the Minneapolis program feels even more ambitious: Its drive to engage members of historically disinvested, underserved communities, as well as newcomers to Minneapolis, has the potential to dramatically reorder the city's planning processes, not to mention its physical landscape.
Transformative potential, national model
Since many plans are still on the drawing board, Kayim is coy about what a "typical" Creative CityMaking initiative might look like. She does point to a graffiti prevention drive, in which artists will creatively deploy street art to combat unauthorized tagging, as a potential point of engagement for artists and creative-minded community members. For now, says Sweetland, Intermedia and the city are drawing up "a process that will connect experienced community artists with up to five city departments" that could use their services. Specific projects will grow out of those relationships.
Creative CityMaking's impact may be felt well beyond Minnesota's borders. The demographic shifts and changing modes of public engagement that the project seeks to harness aren't unique to the Twin Cities, says Kayim. She shares a story about a Utah city council member who approached the City of Minneapolis about bringing a similar initiative back to his hometown.
If Morris is right about Creative CityMaking's transformative potential—and, with more than two decades of leadership experience in the nonprofit and for-profit sectors, she knows what she's talking about—Minneapolis' approach to placemaking may serve as a national model for the next generation of public policymakers and community artists.
That'll take an even more ambitious approach to urban placemaking, of course. Sweetland isn't shy about expressing gratitude for Kresge's largesse. "Without this funding," she says, "Intermedia would not have been able to continue moving the Creative CityMaking partnership forward." But she's also realistic about its limits.
"More funding and support could make [Creative CityMaking] a more sustainable way of working," she says. "Minneapolis is leading the way and we hope that becomes the new normal."
Brian Martucci is
The Line
's Innovation and Jobs Editor, and frequently contributes feature stories.
---
To view article in its original context click here <
http://thelinemedia.com/features/creativecitymaking04162014.aspx
>